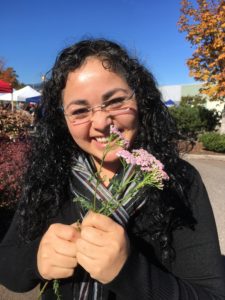 By Eileen Garvin
In recent years, research has shown some curious links between positive emotions and good health. For example, some studies show that happier people have better heart health, fewer colds and greater protection against diseases like diabetes and hypertension. Some Studies suggest that happier people even live longer.
If such things are true, it would be easy to see the goal of happiness as purely self-serving. That might be a reason for some people to participate in Gorge Happiness Month — 30 days of gratitude, mindful meditation and acts of kindness. But that's not what motivated Luz Elena Valdez Torres.
"My friend said, 'You are already happy, Luz.' I said, 'It's not about being happy. It's about making others happy."
Luz appears to accomplish that goal more easily than most. With curly brown hair, a bright smile, and a quick laugh, the 35-year-old Hood River resident has a sunny disposition that's truly contagious. In her four weeks of Gorge Happiness Month she applied that attitude to helping her family, friends and co-workers. Here's what she learned along the way.
Week One: Making connections
Luz found the practices of daily gratitude and mindful meditation enjoyable, though the first was easier than the second. Her approach to acts of kindness was careful and methodical. She made a list of the important people her life and the specific things she could do to help each of them.
The first week Gorge Happiness Month, Luz decided to focus on one friend who is the mother of seven. "What can I do for this family this week?" Luz asked herself.
Her friend, who works in the fruit packing industry, decided to stay home with her youngest child this year. She told Luz that the lack of income was really hard on all of them. There was no extra money for fun things and just covering the essentials was a challenge. Around the same time, a coworker mentioned she had loads of baby clothes that her children didn't need anymore and she didn't know what to do with them. Some of them were brand new. Luz took the clothes to her friend, who was thrilled and grateful.
"It's not really kindness. It's just making the connection," Luz said.
Week Two: Changing the conversation
Luz moved to Hood River from the state of Jalisco, Mexico, in 2002. Her life in Hood River has been full of good things — school, church, family and work. She likes her job as a medical assistant and is completing her pre-requirements for nursing school. She teaches Sunday school to kids at her church and spends lots of time with her five siblings who live in the area and their families.
But within all the good, sometimes she's heard an undertone she doesn't like. Other immigrants, she finds, sometimes discourage a person who is trying to improve their lot. The urge comes from fear of deportation or discrimination, Luz thinks.
"Even though we love each other we still have this," she said.
Luz said she has an easy time letting things go, but she still didn't like it when she found herself the subject of gossip from an acquaintance. Luz decided to use the situation as an opportunity to apply her happiness month mandate. She made a point of helping that person the next chance she got to demonstrate how to lift someone up instead of tearing down.
Week Three: Tables turned
Things took an interesting turn in Luz's third week of Gorge Happiness Month.
"It's getting tough," she said that week with a laugh. "I'm looking for things to do."
She'd been so proactive in helping friends and family with obvious needs — babysitting, housework and errands — that she had exhausted her list. When she asked her family what specific things she could do to be helpful, they teased her and asked what she wanted in return.
Then a funny thing happened. Luz cleans an office for extra cash to help pay for school, and one day a friend offered to help. Luz said she would treat her to dinner in return. The friend declined and said she just wanted to do Luz a favor. And Luz faced the simple challenge of accepting someone else's help as she had been asking others to do. She said it was hard to accept at first, but she did it.
"I learned that if someone does something for me, I don't have to pay them back," she said. "I just need to be grateful."
Week Four: Emptying out
Luz's final week of Gorge Happiness Month proved harder than she expected. She continued to enjoy her meditative minutes and her own daily gratitude list. But when she reached out to more people to help them, she found that a willingness to help does not always translate into acceptance from others.
"People are not always willing to receive help. I need to be okay with that," she said.
But she sees this as a point to resist.
"In Spanish, we have a saying. 'Tu te rascas con tus propias unas."
Translation: You have to deal with your own problems. Luz doesn't like the sentiment. Just because it is a common saying doesn't make it right, she said. People would do better to help each other. She said she would continue to offer what she has to give to others. She said she is full of energy and love and wants to expend it all in her lifetime.
"I want to die empty," she said.